Brainbridge Elevate Launch
24 HOUR LIMITED TIME OFFER
You probably already know and love our original BrainBridge Nootropic Brain Fuel. BrainBridge is a nootropic powder supplement that was created for gamers, students, business professionals and entrepreneurs. A nootropic by definition is a supplement or substance that improves brain functions like memory, creativity, focus and motivation.
BrainBridge Elevate is the next step for those who demand the most out of their brain. This high-stim formula is not for beginners. Ramped up natural caffeine, Halostachine & our new MagicMushrooms blend.
Get lifted to new heights with BrainBridge Elevate. Unlock Super-focus, long-lasting energy & elevate your creative potential.
This isn't just a new product though…. This is a 1 time limited edition formula & flavor. Vigorously tested by 100 Beta-Program testers to ensure that all aspects of BrainBridge Elevate are perfected.
LMTD EDTN x Super Exclusive Orange Juice Flavor .... and yes, that's a glow-in-the-dark label...
HOW DOES BRAINBRIDGE ELEVATE STACK UP?
This unique blend of mushrooms, coined "MagicMushrooms" goes beyond just brain function by boosting immune function, reducing stress, reducing fatigue & improving stamina. Premium sourced Reishi, Organic Shiitake, Organic Maitake, Organic Lions Mane & Organic Turkey Tail Mushrooms are the secret sauce.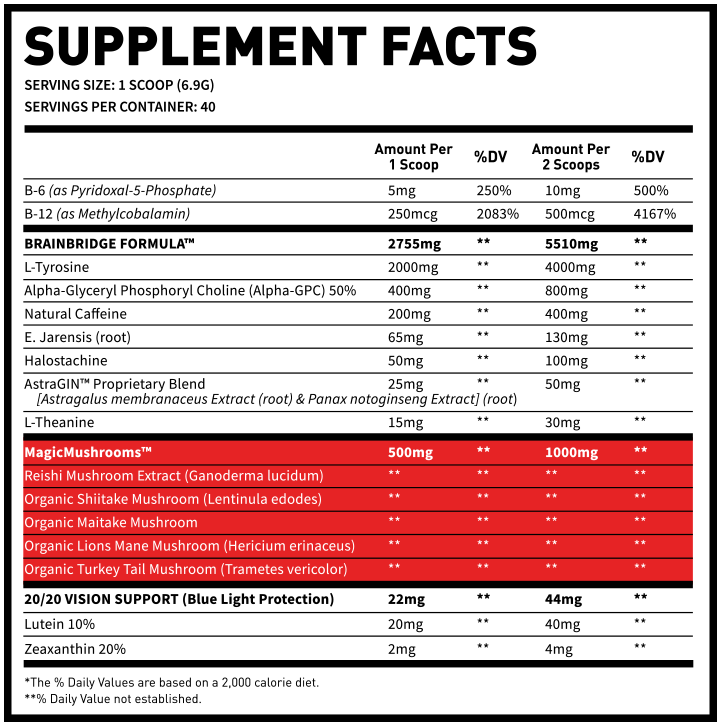 REAL Brainbridge BETA-Program
Tester Feedback

GREAT STUFF!
"Love the flavor. I'm a big on OJ and this was spot on. I substituted Brainbridge Elevate for my coffee and as preworkout. I took one scoop in the morning and on training days I took another scoop and half. My focus was awesome and sharp. Highly recommend this and look forward to it again!"
-Joshua Espinosa BETA-PROGRAM TESTER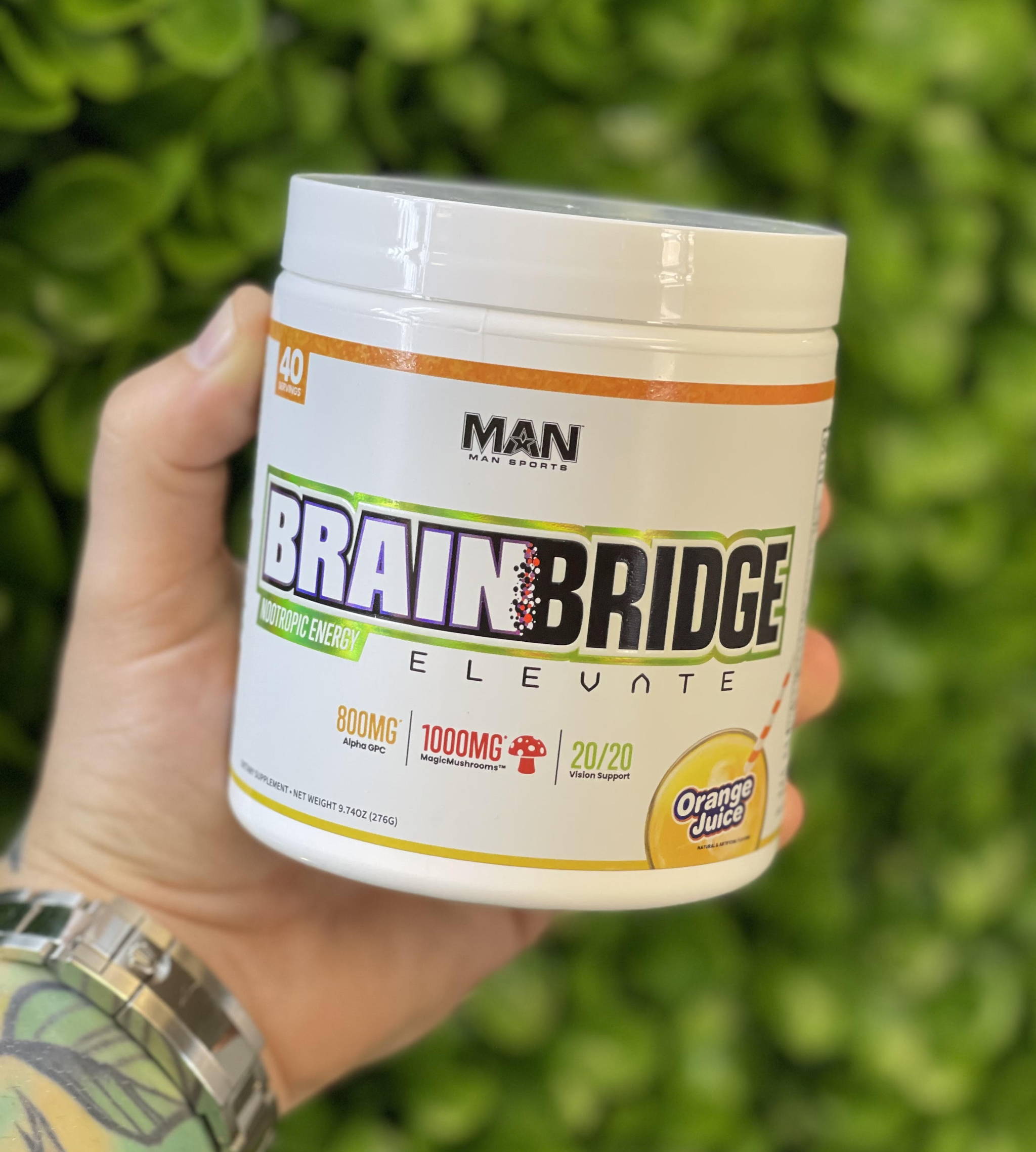 100% ON BRAINBRIDGE
"The taste is amazing it helps me focus my ride it helps me with long drives you can mix it a little extra or a little less depending on what you need that day and it helps me just get through the day it is so amazing."
- Charlotte Hilton
BETA-PROGRAM TESTER
BRAIN FOOD WITH INTENSE FOCUS
I recently been selected to test this product in the Beta stage let me tell you it does not mess around the taste is amazing I got a really enjoy Orange flavour in the mornings to help wake me up it mixes well, I've been taking one scoop in the mornings and its has a PUNCH not for the light of heart for those who like the extra kick into overdrive. FOR ME I LOVE THAT it wasn't too much stimulus but definitely was an extreme rush. Came with good focus and mental clarity feeling I am enjoying the product.
- Wade Zettler BETA-PROGRAM TESTER
24 HOUR LIMITED TIME OFFER