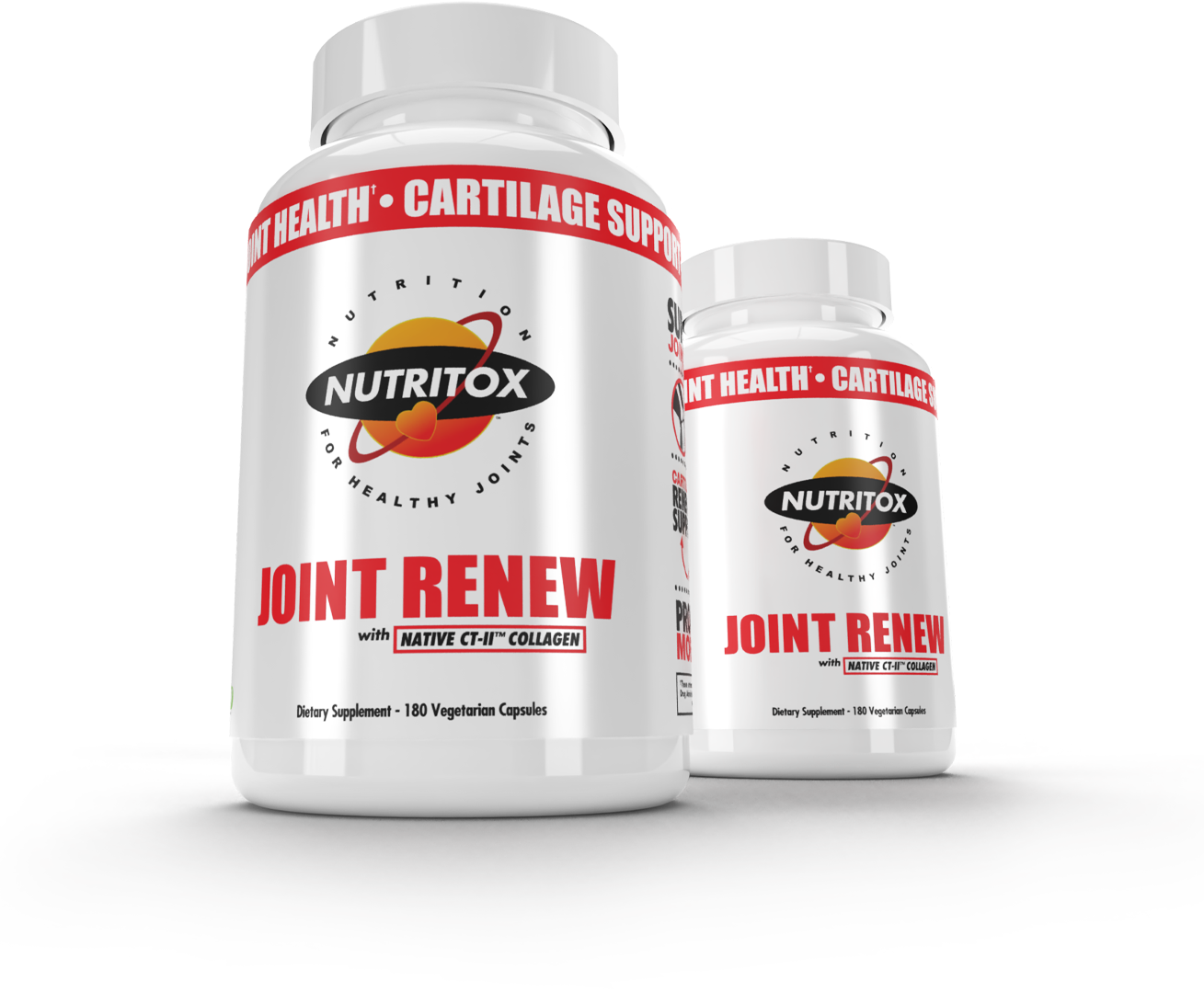 Don't Let
PAIN
Slow You Down!

Featuring

NATIVE CT-II™ COLLAGEN
Do You Suffer from joint Discomfort?
New Improved Formula For Enhanced Relief*
The all NEW Joint Renew was formulated to lubricate and nourish joints with powerful doses of proven ingredients like Cissus Quadrangularis, Native CT-II Collagen, Hyaluronic Acid, Turmeric Extract & MSM. This loaded joint formula combines new science and ingredient technology to provide joint support that goes beyond the typical Glucosamine & Chondroitin formulas of past.
Features NATIVE CT-II™ Collagen
(Premium Undenatured Type II Collagen)


Preserves joint mobility & function* 


May help relieve muscle & joint discomfort*


Supports Healthy Cartilage*


JointRenew™ Ingredient Breakdown
Joint Renew has got your back (literally) with researched and proven ingredients like Cissus Quadrangularis, Native CT-II Collagen, Hyaluronic Acid, Turmeric Extract & MSM. This specific combination may help moderate joint function due to strenuous exercise, nourish joints & connective tissue and reduce joint pain & swelling. Additional support ingredients like Vitamin C and Manganese also provide nutrients for collagen and cartilage formation and are important for healthy hair and skin. Joint Renew is recommended for use by athletes and maturing adults concerned about maintaining joint flexibility, comfort and health.
Derived from chicken sternum cartilage, Native CT-II Collagen may improve joint function and prevent excessive deterioration of articular cartilage.
Cissus Quadrangularis Extract
In recent studies, Cissus Quadrangularis demonstrates the ability to strengthen bones and may help reduce exercise-induced joint pain through reducing swelling and inflammation. 
Studies show that Turmeric extracts have powerful anti-inflammatory properties which may result in improvement of symptoms related to arthritis.
Hyaluronic Acid helps in the growth and development of the joint's cartilage and bone by promoting the growth of new cells and tissues.
"Stop throwing your money away on old, out-dated joint supplements. Joint Renew combines new science and ingredients that have massively helped my joints after years of sports, bodybuilding and injuries."
-Alexander McCray (Co Owner / COO Nutritox, MAN Sports)

Joint Renew is recommended to be taken daily and consistently for best results. It's not a one time fix, think of Joint Renew as a multi-vitamin for your joints and connective tissue.