NEW Flavors of Game Day Nootropic
JUST IN TIME FOR SUMMER..
2 NEW Flavors of Game Day Nootropic have arrived!
What started as a limited edition formula has become one of our all time top sellers! We're so excited to bring you 2 new flavors of this focus driven pre-workout!
GAME DAY™ JUST GOT STRONG(ER)
For Game Day Nootropic it was time to go back to our roots. With OG Game Day (black/red label) circa 2012 we were known for HIGH-STIM, long-lasting energy pre-workouts that tasted INSANE. We knew we could make a bada$$ high-stim formula, but we also knew we could make it better.
With the advancement of nootropics in the marketplace and our long history creating some of the best nootropic products out there i.e. NooPump, BrainBridge, Lean Ph.D, etc. we wanted to combine SUPER-POWER ENERGY with laser-focus & clarity to create a modern take on what a "super strong" pre-workout should feel like.
No jitters. No "squirrel brain." Tons of energy, muscle engorging pumps & tunnel like focus…
Trust us,you haven't felt a pre-workout like this in YEARS.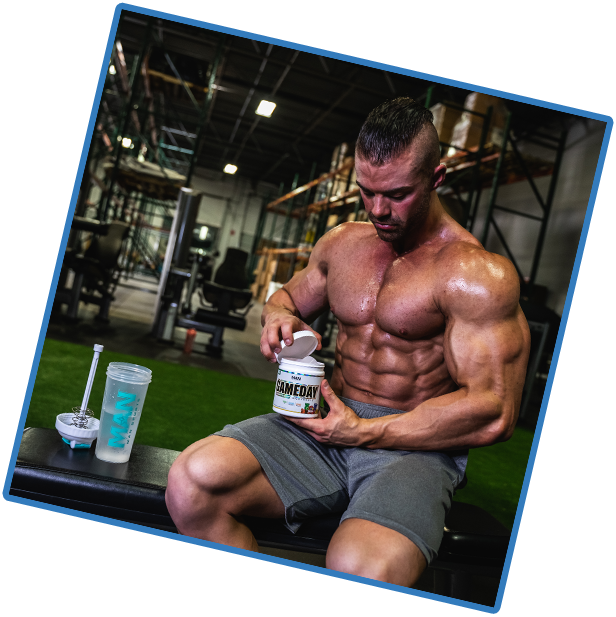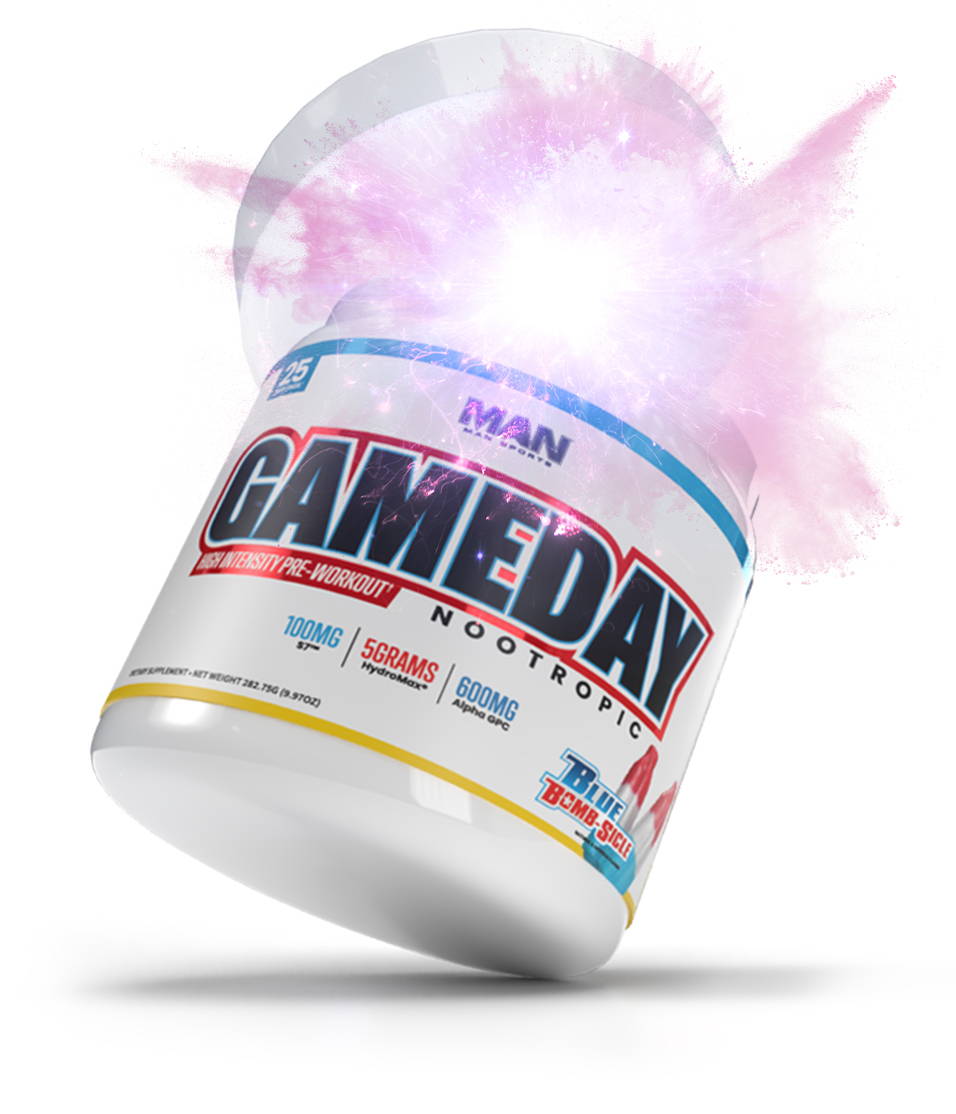 Our STRONGEST Game Day formula yet... an ode to OG Game Day, the formula that put us on the map. Rather than simply re-launching an old formula, we wanted it to be BETTER. Ingredients have evolved, flavor systems have evolved and this is the next step in the evolution of Game Day Pre-Workout! Game Day Nootropic provides intense energy, a euphoric mood boost, massive pumps & performance in a nice smooth feeling package.
LIMITED EDITION High Intensity FORMULA*

EUPHORIC ENERGY FROM ALPHA 2 STIM BLEND*

500MG DENDROBIUM NOBILE EXTRACT

MUSCLE HYDRATING PUMPS FROM 5G HYDROMAX® GLYCEROL

FEATURES 100MG S7™ & 600MG ALPHA GPC
WARNING: FOR ADVANCED USERS ONLY. START BY USING ½ SERVING TO ASSESS TOLERANCE. Do not combine with other sources of caffeine or stimulants. This product may contain ingredients banned by certain sports organizations. User accepts all risks, liabilities, and consequences in regard to testing. Use only as directed. Do not exceed recommended serving under any circumstances. Store in cool dry place. KEEP OUT OF REACH OF CHILDREN.
WHAT MAKES GAME DAY NOOTROPIC™ SO POWERFUL*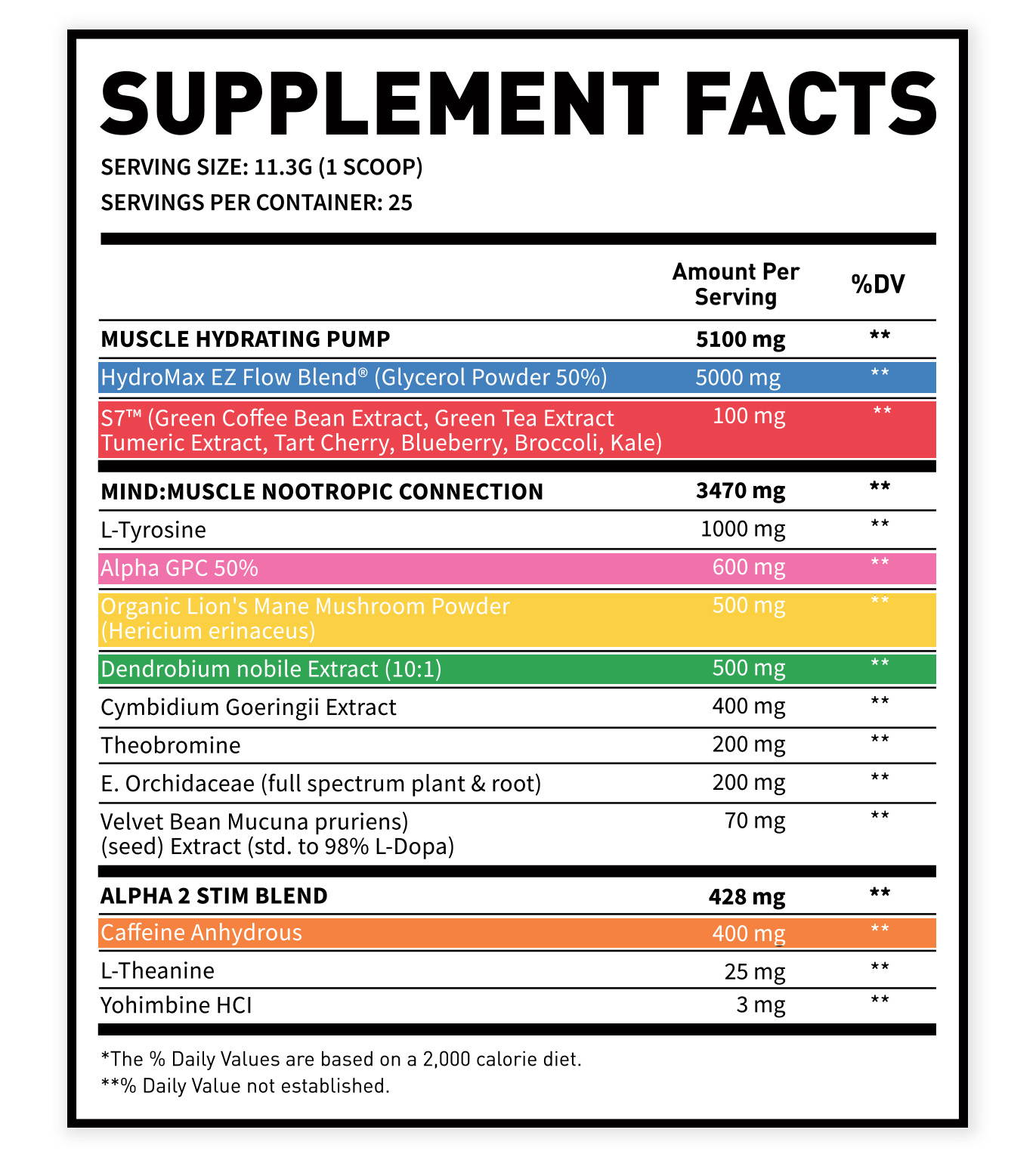 Massive 5 GRAM serving of highly concentrated glycerol providing hyperhydration, endurance and engorged pumps! Hydromax is a stable, easy-to-mix version of glycerol monostearate.
Pumps through plants?! S7 is a dose of 7 plant-based ingredients that has been clinically shown to increase nitric oxide by 230%! S7 increases the body's natural NO providing vasodilation, increased blood flow & pumps.
A natural source of choline - Alpha GPC is a potent memory booster and has been shown to slow the rate of cognitive decline in addition to performance based benefits related to power output.
Organic Lions Mane Mushroom Powder
500MG
A powerful mushroom that may support clear memory, a healthy mood balance and overall cognition. It promotes the formation of nerve growth factor (NGF), essential for hippocampal plasticity.
Dendrobium nobile Extract (10:1)
500MG
An ode to OG Game Day, we had to include Dendrobium. Dendrobium Nobile has been used for over 2000 years and the Chinese consider Dendrobium as one of the fifty fundamental herbs.
At a hefty dose of 400mg per serving, Caffeine Anhydrous is what will "wake up" your brain in preparation for a high-intensity training session. This is what we found to be the sweet spot for a true "high-stim" pre-workout… with nootropics providing the delicate balance between rushing energy and laser focus.
The new formula on is amazing, I feel lazer focus and the energy last for hours. Get it you won't be disappointed
-Deivy Q.
VERIFIED CUSTOMER
This pre workout checks all the boxes! Great pumps, focus, and sustained Energy! I do graphic design work after my workout and this product carries over into my daily routine assists with being the best, creative version of myself! Thanks for supplying the best supplements!
-Aaron B.
VERIFIED CUSTOMER
I love game day!! It gives me long lasting energy and focus. I use to pound energy drinks all day, this replaces them by only using one serving a day. I will continue buying game day from man sports. Thank you
-Holly S.
VERIFIED CUSTOMER
Kicks in about 30 minutes and gets more intense as time goes on. Works great. I'll drink this instead of coffee. Good energy and focus.
...you haven't tried a pre-workout like this. First workout on that new new Nootropic Gameday. Had to make myself leave the gym, wanted to stay for "one more set" 10 times. Smooth energy, FOCUS, awesome pump.
FREQUENTLY ASKED QUESTIONS
Who is Game Day Nootropic™ For?
Game Day Nootropic is for anyone looking to take their workouts to the next level through intense energy & laser focus.
How do you take Game Day Nootropic™?
As Game Day Nootropic is a very powerful formula, start off taking a half scoop to assess tolerance. From there you can take 1 full scoop. We never recommend going over 1 scoop.
What products stack with Game Day Nootropic™?
Game Day Nootropic stacks perfectly with Pump Powder (our non-stim pre-workout pump formula), ISO-EAA (our intra-workout BCAA+EAA / Hydration formula) and Creatine Monohydrate for even more performance benefits.
Will Game Day Nootropic make me jittery?
Game Day Nootropic was developed to be a high-stim, intense pre-workout while providing a smooth experience through ingredients like L-Tyrosine & L-Theanine. These ingredients not only reduce that "jittery" feeling but also help prevent the dreaded "crash".