Next Generation Muscle Building
The introduction of PROPF3 enters us into the next generation of muscle building supplements. The time is now to effectively pack on lean mass, recover faster and achieve your peak physique. Loaded with growth factors, peptide protein fractions, transferrin and lactoferrin, PROPF3 creates the perfect anabolic growth environment.
Sourced from medical grade Serum Protein, PROPF3 creates a cyclical anabolic affect through improving GI microflora composition, flooding the body with growth factors, rapid nutrient uptake, immune system stabilization and overall nutrient utilization.
A novel approach to muscle building, PROPF3 creates the perfect anabolic environment through multiple processes to achieve new growth of muscle tissue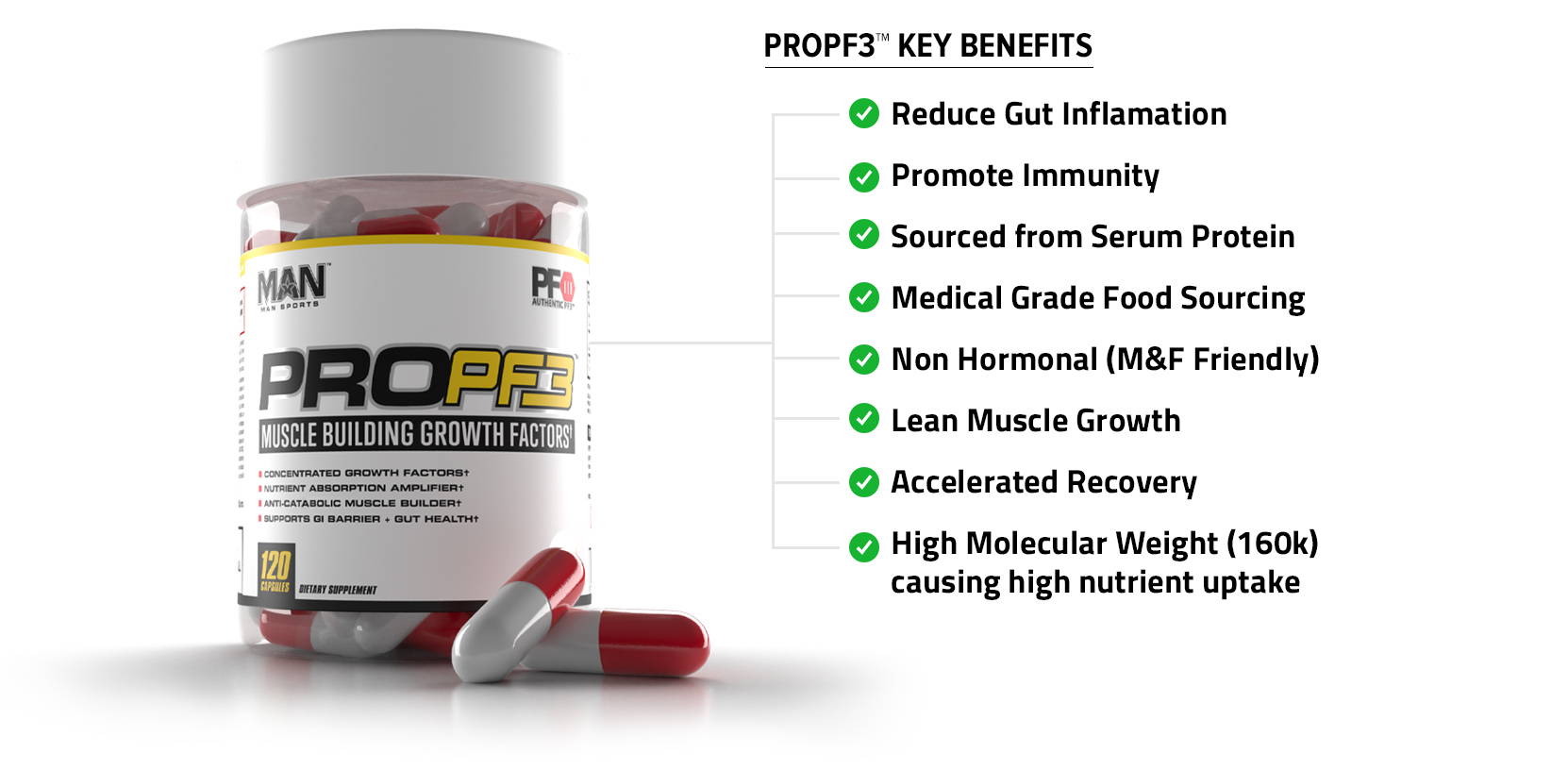 Flood your body with high-molecular weight PROPF3, releasing anabolic growth factors, immunoglobulins, albumin, TGFB, Transferrin & Lactoferrin.

4th bottle
This is my 4th bottle of Pro PF3 and I won't train without it. Big help with recovery and I've never been stronger.
I like it
Good product, definitely helps with recovery with nothing added.
Propf3 Review
Great product already seeing a change in muscularity and lifts have gone up significantly
Pro PF3
Second cycle of using Propf3. The first time I took it I stopped taking the recommended 4 pills a day because I was getting this strange lower body pain about an hour after I would take it. Im not sure what that was about but this time I started with 2 a day and now I take between 4-6 a day. I haven't got any crazy amount of muscle gains with this but do have consistent muscle gain.
Real solid product
This isn't something you will notice immediately like some stimed out pre workout but I am a big believer in the overall benefit of colostrum and since I'm a big man sports fan this was a no brainer for me. Take this for 2-3 months straight and then go 2 weeks without it. You'll notice a huge difference
More from this collection